OnePlus TV 32Y1 – Smarter TV
Android TV with superior craftsmanship and elegant design – Buy Now
Click here to know more
Advertisements
AMD has finally unveiled the Radeon RX 6000 family of RDNA2 graphics cards with three high-end graphics cards including the Radeon RX 6900XT, 6800XT and 6800 which are set to be available on shelves starting November 18, 2020. AMD states that with their new Infinity Cache, the RDNA2 cards can deliver 2.17x the bandwidth of a traditional 384 bit GDDR6 GPU while consuming 10% less power. Also, RDNA2 has reportedly achieved 54% improvement in performance per watt over the RDNA architecture. AMD is gunning for 4K gaming with the new RX 6000 graphics cards which brings these cards into the high-end segment. Also, these cards support PCIe Gen 4.0. AMD even showcased a few benchmarks putting the Radeon RX 6800 in the same league as NVIDIA's new RTX 3080 graphics card. The RX 6800XT will be priced at USD 649 and the RX 6800 will be priced at USD 579. The top of the line RX 6900XT will be priced at USD 999 and will arrive in stores a little later than the other cards on December 8, 2020.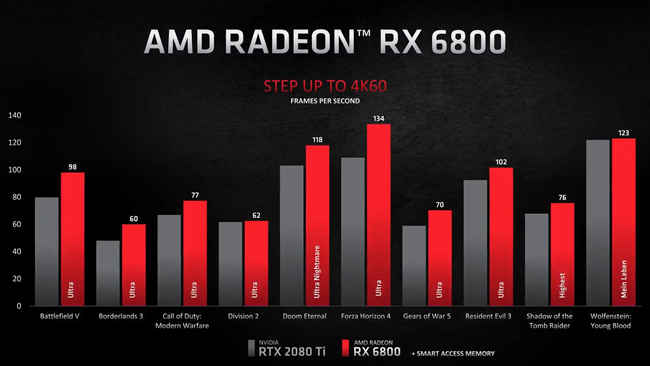 "Today's announcement is the culmination of years of R&D focused on bringing the best of AMD Radeon graphics to the enthusiast and ultra-enthusiast gaming markets, and represents a major evolution in PC gaming," said Scott Herkelman, corporate vice president and general manager, Graphics Business Unit at AMD. "The new AMD Radeon RX 6800, RX 6800 XT and RX 6900 XT graphics cards deliver world class 4K and 1440p performance in major AAA titles, new levels of immersion with breathtaking life-like visuals, and must-have features that provide the ultimate gaming experiences. I can't wait for gamers to get these incredible new graphics cards in their hands."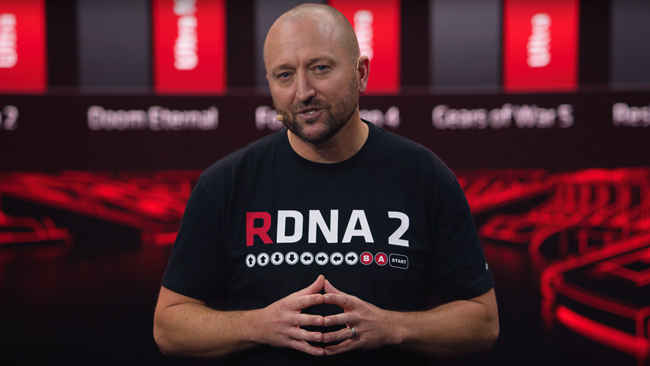 AMD Radeon RX 6900XT, 6800XT and 6800
The AMD Radeon RX 6000 family supposedly brings 2x the performance of the RX 5000 series in certain video games but the important features include AMD Infinity Cache, Smart Access Memory, Microsoft DXR support and Microsoft DirectStorage Support. Let's take a look at the core configuration of the new graphics cards.
| Model | AMD Radeon RX 6900 XT | AMD Radeon RX 6800 XT | AMD Radeon RX 6800 |
| --- | --- | --- | --- |
| Compute Units | 80 | 72 | 60 |
| GDDR6 | 16GB | 16GB | 16GB |
| Base Clock (MHz) | 2015 | 2015 | 1815 |
| Boost Clock (MHz) | Up to 2250 | Up to 2250 | Up to 2105 |
| Memory Interface | 256 bit | 256 bit | 256 bit |
| Infinity Cache | 128 MB | 128 MB | 128 MB |
| Price (USD) | $999 | $649 | $579 |
| Price (INR) | 74,159 | 48,177 | 42,981 |
AMD isn't scaling memory across the SKUs which very well means that they don't see value in unnecessarily putting more memory chips on the board when they aren't going to be used by games. 16GB of GDDR6 memory is what AMD deems sufficient for 4K gaming and you get that across all three graphics cards. The Radeon RX 6900XT has 80 Compute Units which is twice that of the RX 5700XT so a lot of the performance gains are coming from the higher core count. The process node is still the same 7nm, although TSMC has improved the process since the Radeon RX 5000 series cards came out. Add to that the microarchitecture along with the software improvements and you begin to see why RX 6900XT is coming out to be a high-end graphics card.
RDNA2 – Infinity Cache, Ray Tracing, DirectX 12 Ultimate, Smart Access Memory and DirectStorage
The RDNA2 has several key improvements that make the new Radeon RX 6000 graphics cards very compelling. The first of which happens to be Infinity Cache which seems to be a massive L3 cache that'll help the RX 6000 cards churn out more frames at higher resolutions. All three cards will feature 128 MB of Infinity Cache and as of now we can only assume that it will be on die, otherwise it doesn't make much sense. This in turn, should make the die size much larger for Navi 21.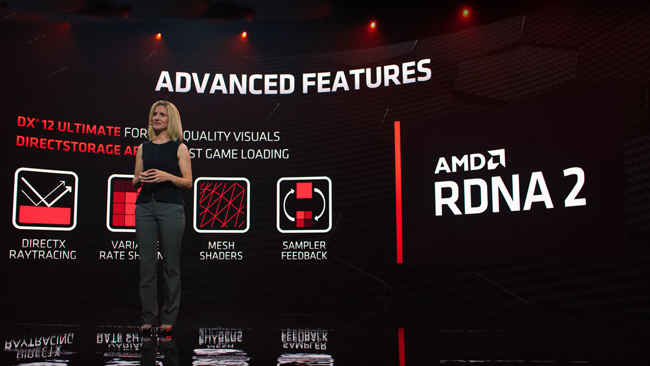 The next major improvement is DirectX 12 Ultimate support. This brings support for Microsoft's DXR Ray Tracing API as has been speculated for close to a year. DirectX 12 Ultimate also brings support for the improved variable rate shading, mesh shaders and sampler feedback. VRS and Sampler Feedback helps the GPU optimise rendering at different distances on different objects so that compute resources can be saved where they don't contribute to much visual fidelity. This allows more FPS to be pushed by the GPUs.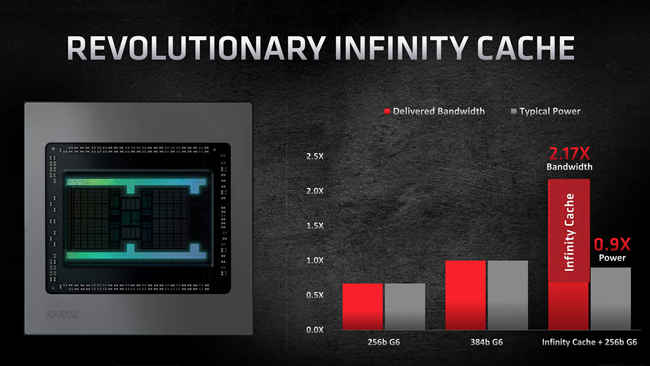 The new GPUs also support Microsoft's DirectStorage which allows GPUs to issue a lot more I/O calls to the SSD and move data from the SSD to the GPU VRAM quicker. Again, the impact is quite huge which is why consoles manufacturers have adopted it on the new Xbox Series X/S and PS5.
Lastly, AMD also teased a new feature called Smart Access Memory which comes into play when the RX 6000 cards are paired with Ryzen 5000 CPUs. This feature gives the Ryzen 5000 CPUs direct access to the GPU VRAM and helps gain more performance.
AMD Radeon RX 6000 Pricing and Availability
As stated previously, the AMD Radeon RX 6800XT will be priced at USD 649 and the RX 6800 will be priced at USD 579. Both cards will be available starting November 18, 2020. The top of the line RX 6900XT will feature a higher price tag of USD 999 and will arrive in stores a little later than the other cards on December 8, 2020. Meanwhile, we might see some new announcements from NVIDIA as rumours of RTX 3070 Ti and RTX 3080 Ti have started surfacing to counter AMD's new RDNA2 graphics cards.