Now that Halloween is out of the way, game developers can now focus on the next major holiday coming, which is Diwali. Garena Free Fire has announced its 'Light Up Bermuda' event. The event introduces localized in-game events that include Indian themed emotes and costumes.
The event asks players to complete missions at Light Up Bermuda Web Event. Players are tasked with collecting diyas to light up the map to 100%. These diyas can then be exchanged for weapon skins and emotes. Each skin costs 30 diyas, while each emote will cost 20 diyas. Players will also get a free Magic Cube on Diwali (November 14).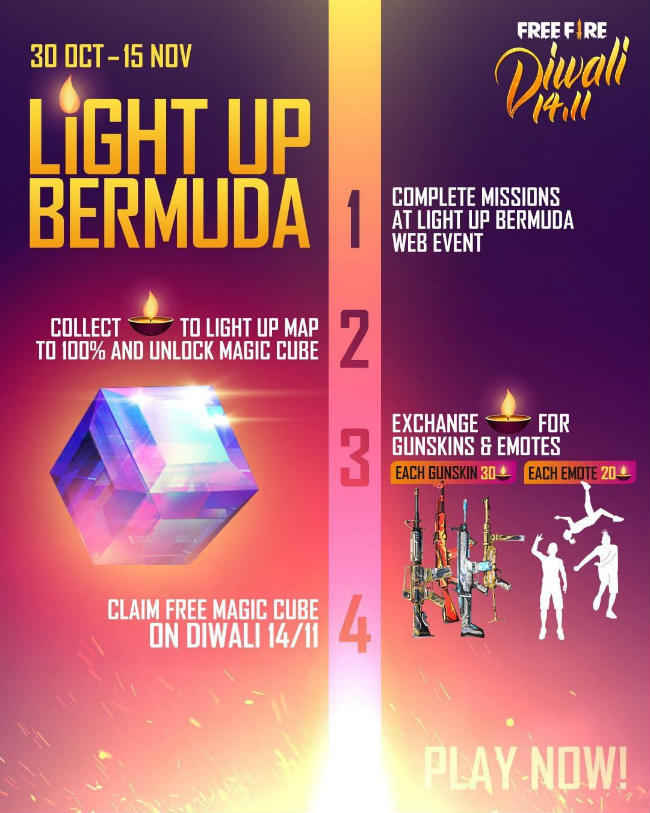 Garena notes that 'Light Up Bermuda' is their third campaign dedicated to its Indian player base. The first was its digital and outdoor campaign, #IndiaKaBattleRoyal. Following that, it partnered with Bollywood actor Hrithik Roshan in its 'Be The Hero' campaign. 
Besides, all that, Garena will also be releasing a new music video on November 8th, followed by the peak day of the campaign on November 14. It should be noted that releasing music videos seem to be the norm as PUBG Mobile also recently announced their own virtual and called Power4 and their song, 'Nothing's Getting In My Way'.
However, right now PUBG Mobile developers have bigger things to worry about. It was recently announced that Tencent Games will terminate all services and access for users in India to PUBG Mobile and PUBG Mobile Lite. On top of this, the rights to publish the game in India will be returned to "the owner of the PUBG intellectual property," namely, PUBG Corp.