Want to modernise your banking loan application?
Build an application that analyses credit risk with #IBMCloud Pak for Data on #RedHat #OpenShift
Click here to know more
Advertisements
Twitter has revealed its plans to relaunch the public verification program in January 2021 after it asked users for feedback on the draft of its new verification policy. Twitter suspended the blue badge of honour back in 2017 over widespread criticism where it was found that many users had received verification badges even after having a single-digit follower count. Twitter released its draft for the new policy in November and received more than 22,000 survey responses in the two weeks since.
The new verification policy will be enforced on January 20, 2021, but the public verification system will go live at a later date. Twitter has listed some key feedback areas that they have worked upon in the new verification policy. The company has changed the criteria for an account to be deemed complete by removing the requirement for a profile bio or header image. An account is now deemed complete if it either has a verified email address or phone number, a profile image and a display name. It has also updated references to Wikipedia that is now in-line with the standards of the encyclopedia.
Moreover, Twitter has also clarified account category titles in a better way. The News category now includes News and Journalists while the Sports category will now include esports as well. There is another reference in the Entertainment category to clearly identify digital content creators. Twitter has also realized that the follower count requirement on a per-country basis "wasn't always the right approach", so it will now be on a per-region basis to make it fairer across countries.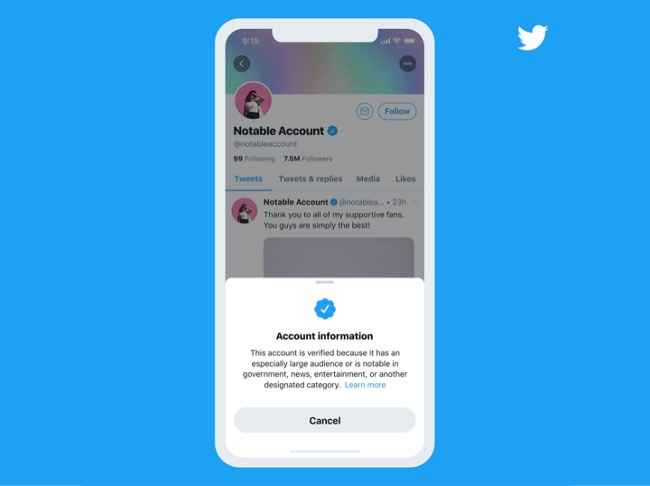 Twitter says that to receive the blue badge, your account must be authentic, notable and active on the platform. It has identified six types of accounts as Notable accounts and these include government, companies, brands and non-profit organizations, news, entertainment, sports, activists, organizers and other influential individuals. The company has also revealed that starting January 20, it will also start removing verification badge from accounts that are found violating Twitter Rules. It will also remove the blue badge from inactive and incomplete accounts.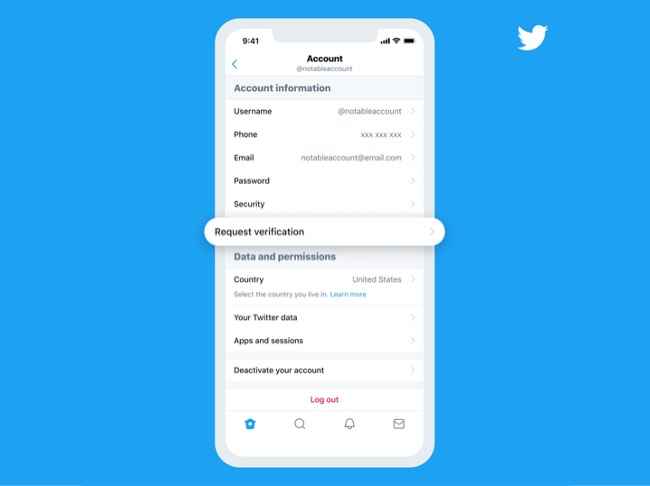 Twitter will launch the public verification in 2021 through a new application process that will be available on the Settings page. The applicant will be asked to choose a category for their account type and will identify the person with the help of reference links and other supporting documents. In 2021, Twitter also plans to introduce automated account labels for bots and memorialized accounts in the memory of someone who has passed.