Want to modernise your banking loan application?
Build an application that analyses credit risk with #IBMCloud Pak for Data on #RedHat #OpenShift
Click here to know more
Advertisements
WhatsApp head Will Cathcart has posted a thread on Twitter, clearing the air around the ongoing controversy around user privacy. Recently WhatsApp started rolling out its updated privacy policy that the data it collects will also be shared to its parent company Facebook, which has a murky track record.
The update notification alerts that the new terms and privacy policy include more information about the messaging service and how it processes a user's data. Besides, businesses can now have a look at how to use Facebook hosted services to store and manage their WhatsApp chats. The new update to terms also elaborates on how WhatsApp partners with Facebook for integration across Facebook Company Products.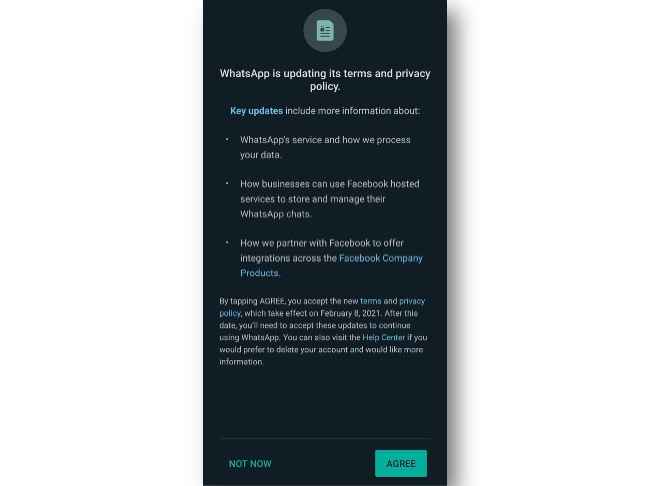 There was a sudden rise in the number of users shifting to alternative messaging apps like Telegram and Signal soon after the notification about the update in privacy policy started popping up. It quickly came under the radar and it is now facing criticism across social media platforms. So much so, that even Tesla head Elon Musk also Tweeted "Use Signal", which added more fuel to the fire.
Use Signal


— Elon Musk (@elonmusk) January 7, 2021
The first statement from the company comes from WhatsApp head, Will Cathcart. He emphasised on the fact that all chats happening on the platform are secure and encrypted. He also clarified that neither WhatsApp nor Facebook has access to its user's private chats. 
Here's what the WhatsApp chief said
Cathcart has published a thread that covers all the concerns rising around the privacy of user data. He starts with telling that the messages and calls made using WhatsApp are still end-to-end encrypted. He clears that with end-to-end encryption, neither WhatsApp nor Facebook can access to the contents of a chat between two users. 
He explains that the updated privacy policy is being shown to people to introduce the new business features to the users in a more transparent way.
I've been watching a bunch of discussion this week about the privacy policy update we're in the process of making @WhatsApp and wanted to share some thoughts.

Thread